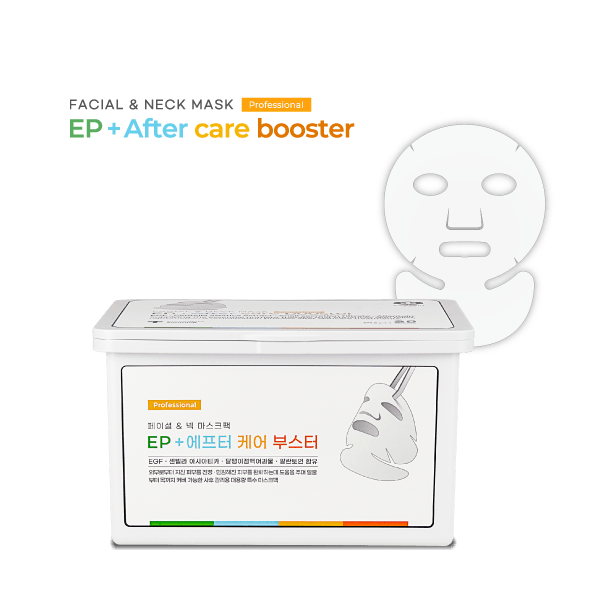 POST-PROCEDURE
EP + After care booster Mask
EP + After care booster Mask is a post-procedure mask, which comes in a convenient bulk packaging of 25 facial & neck mask sheets to be used immediately after procedures for calming effects. It can also used as a post-procedure home-care mask with a comprehensive sheet that covers the face as well as the neck. Even greater and quicker effects can be achieved when using EP + After care booster Gel together.
1
EGF
EGF accelerates the growth of epithelial cells. EGF does so by transmitting a signal through EGF receptor on the cell membrance which then induces a split of cells.
2
CENTELLA ASIATICA EXTRACT
Centella asiatica prevents bacterial activity and helps collagen synthesis which plays a significant role in skin regeneration.
3
SNAIL SECRETION FILTRATE
Snail secretion filtrate functions as a powerful natural antioxidant and minimizes scars from dermatological procedures.
4
ALLANTOIN
Allantoin has an instant soothing effect for red spots after laser treatment.
Pick it up after procedure and during treatment period.(morning and evening)
Pick it up once a day.
Keep the product in a refrigerator for better effects.
Wearing make-up immediately after use is possible.